Building Food Communities – Local Food and Buying Groups/Clubs
I visited Tyler Jones of Afton Field Farm near Corvallis (website……..blog). We talked about food buying clubs/groups and it brought me back to some previous ideas I had around starting one such club back in Manitoba with members of the Harvest Moon Local Food Initiative. Check out this video of Tyler talking about his clubs/groups.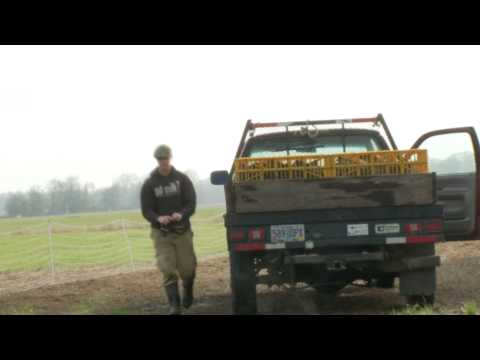 Farmers and ranchers who direct market need to be jills and jacks of all trades. Grower, shipper, seller, distributor, marketer, fixer, troubleshooter, processor, etc. Undoubtedly, many of the folks I talk to are up to the task and balance these tasks with impressive skill and patience. Still…..there is never enough time in a day.
I feel that we, as people who want to eat good,clean,local food and are demanding closer connections with our farmers and ranchers, need to step up and help take on some of the burden of building alternative food models so that our farmers/ranchers can thrive. One simple way to pitch in, is to help organize other buyers/eaters to make the marketing and distribution piece of the direct marketing / local food puzzle much easier.
An eater/customer can become a co-marketer, a co-promotor and a partner by formally or informally forming buying groups to help streamline the logistics for your farmer/rancher. This small commitment can go a long way to overcoming the juggling act that direct marketers face.
One of the strengths of the industrial food system is that food distribution has been centralized, concentrated and has become extremely effective at moving lots of food through their wholesale-retail networks. There are very few instances where one firm is giving individualized service and care to the customers buying the food. Thus, this labor cost is cut out through the mechanized, impersonal aisles and check-outs at your retail store.
A farmer who sells directly to eaters typically embraces the opportunity to engage on a personal level with her customers. While anonymity is a strength in the industrial food system, it is also one of its greatest shortcomings. Anonymity leaves a huge void in our food experience that many are now realizing may be very important – personal touch and the trust that comes with knowing that someone, yes a real person, is caring for the food (from farm to fork) that feeds your family.
This is where the direct marketer comes in – beyond growing/raising your own food, knowing your farmer/rancher is the best way to get closer to your food and to the land that sustains you. However, the logistics of managing a personal relationship with every customer becomes problematic when a direct marketing farm starts to scale up to the point where direct marketing is the primary marketing and income channel for the farm family. Managing food relationships with hundreds of families takes time – time that is already in short supply on the farm.
So, back to the buying club/group idea. One easy way for us as eaters and supporters the farms we buy from is to simply organize ourselves a little better. Granted, this is a completely different way of buying food than the individual-orientated supermarket approach. But there is much to gain by working and playing together. So…
Chances are, if you are buying from a farmer you support, you are already spreading the word to your friends and family – you are a co-promotor. The next step is to form a buying group where you become a distribution point for the friends and family that are now buying from your farmer/rancher.
Benefits:
Instead of having to make seperate deliveries to 10, 15 or more families, the farmer/rancher now only has to come to one spot.
Instead of taking an entire day to make individual deliveries (i.e. not feasible), the farmer now only needs to come for an hour or two to meet his/her customers at the distribution point
A good way to have some fun around getting your food
Another opportunity to socialize with others in your buying group
Your buying group may also choose to engage in political action to support sustainable local food systems through policy change, popular education and direct actions.
Makes farmer's life easier and you can feel good about doing a good thing
Your farmer will feel good knowing that you care about their livelihood
Food club organizer usually gets a discount or some other perks
You can help your friends and family get good, healthy, ethical food. Make it easy for them. Make it easy for yourself.
I'm planning on trying this out when I get back to Manitoba in the spring. I've done it in the past, in a less formal way – splitting quarter or half animals with friends and family. But I think I'll try it in a more deliberate effort. I might try to build in some potlatches on food distribution days and probably have less frequent distribution days (larger quantities on fewer days.. maybe.. we'll see what my farmers think). There are no rules about how a food buying group/club is run so be creative – have fun with it.
So, as I see it, there are two ways that a food buying club/group can start:
A farmer can ask one of her core customers to start one
An eater can take the initiative to form a group and then find a farmer or a number of farmers to buy from – this is the approach I will take.
Check out Polyface (Salatin) metropolitan buying club webpage here for a highly developed buying club model.
If you are interested in starting or joining a buying club in Manitoba, shoot me an email (c_anderson (at) umanitoba.ca)
By Colin Anderson – Post syndicated from
www.farmtoforkresearch.com